Al fresco dining: where to dine outdoors in Bangkok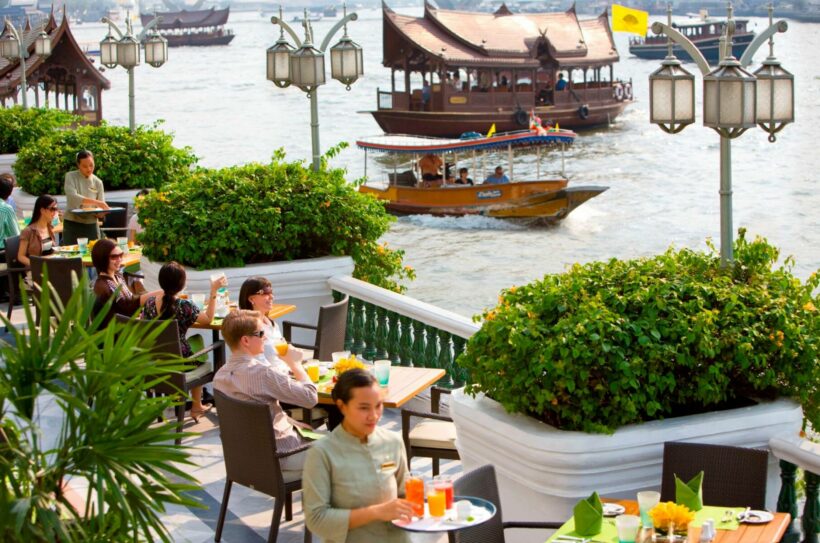 Thinking about indulging in a little al fresco dining in Bangkok? Whether you want to check out the city's skyline from a rooftop bar, have an amazing fine dining experience under the stars, or escape the city buzz in a restaurant's patio garden, chances are, you'll find a restaurant that fits the bill. Below, we've put together a little list of the outdoor restaurants in Bangkok you have to visit. Each of these restaurants provides ample opportunity to take in the sun or simply enjoy the air of the busy city.
1. The Verandah
Opening hours: Daily, 06:30 – 00:00 (on the terrace open 17:30 onwards)
Address: 48 Oriental Ave, Khwaeng Bang Rak, Bang Rak, Bangkok 10500
The Verandah has plenty of outdoor dining areas, but you'll want to snag seating on the terrace to get unmatched vistas of the Chao Phraya River. For a more special experience, come at sunset — the orange hues of the sky combined with the serene waters of the river will create a wonderfully romantic atmosphere.
Aside from the settings, what makes this restaurant stand out from the rest is the fabulous food offered. From breakfast to late evening snacks, you can find a wide selection of western and Asian dishes to delight your taste buds. We recommend the organic barley mango and pomelo salad or coral trout ceviche to start your meal. If you want to sample some classic Thai dishes, be sure to also try the Pad Thai and Pad Gra Prow Lobster. The homemade ice cream and freshly baked pastries are must-tries as well. 
2. Elements
Opening hours: Wednesday – Sunday, 18:00 – 22:30
Address: 57 Wireless Rd, Khwaeng Lumphini, Khet Pathum Wan, Bangkok 10330
Sitting on the 25th floor of the Okura Prestige Hotel, Elements allows you to enjoy an authentic fine dining experience while admiring Bangkok's striking skyline. The Michelin-starred restaurant serves French cuisine with Japanese influence. You can find several set menus, including the new Guestronomic Journey Menu, which is available in three options: Ku-Ki (four courses), Chikyu (six courses), and Mizu (eight courses). Each dish is made with careful attention to detail, creating an outstanding dining experience.
While the airy dining room makes it feel like you're dining outdoors regardless of where you sit, the alfresco cantilevered deck holds a special place in our hearts. Enjoy a pleasant breeze while watching the twinkling lights and enjoying refreshing signature cocktails like Pineapple Sake Cooler. 
3. The House on Sathorn
Opening hours: Wednesday – Sunday, 12:00 – 23:00 (Afternoon Tea from 14:30 to 17:30)
Address: W Bangkok, 106 N Sathorn Rd, Silom, Bang Rak, Bangkok 10500
The House on Sathorn is the closest you'll get to a tea party in Wonderland in Bangkok. Home to the Paii restaurant, you can relax and enjoy a wonderful tea time in its airy courtyard. Come here between 14:30 to 17:30 and snuggle up with a pot of tea and delightful Thai-inspired savoury items and sweets.
There are three Afternoon Tea Sets you can choose from, including the Heritage Afternoon Tea Set, the Madame Staro Afternoon Tea Set, and the Hotel Royal Afternoon Tea Set. Each tea set includes 2 pots of tea or coffee. However, if you choose the Madame Staro set, you'll also get 2 glasses of cocktails. For special celebrations, the Hotel Royal Afternoon Tea Set is perfect since it comes with Champagne. Want to dine out with your pets? You'll be happy to know that your furry friends are also welcome in the garden and can even savour PAW Day's nutritious menu on Sundays.
4. Penthouse Bar + Grill
Opening hours: Daily, 12:00 – 15:00 and 17:30 – 2:00
Address: 34th – 36th Floor, Park Hyatt Bangkok, 88 Wireless Rd, Lumphini, Pathum Wan, Bangkok 10330
Penthouse Bar + Grill is where you'll go if you want to combine mouthwatering dishes with amazing views. Situated at the top of Park Hyatt Bangkok, it's a massive three-level dining complex with six restaurants and bars. The outdoor terrace at The Grill is the perfect spot for a fine dining experience. You can enjoy all kinds of prime cuts of meat and seafood sourced from all around the globe. All prepared with skill and passion by the talented chefs. We have a soft spot for the grass-fed prime tenderloin. It will melt in your mouth since it's so tender, juicy, and thick.
After dinner or any occasion that requires drinks, head to the Rooftop Terrace on the 36th floor. Enjoy the breeze and gawk over the twinkling city lights while enjoying refreshing cocktails, classic drinks, and crafted bites from the bar. 
5. Phra Nakhon
Opening hours: Daily, 12:00 – 15:00 and 18:00 – 22:00
Address: Capella Hotel, 300/2 Charoen Krung Rd, Yan Nawa, Sathon, Bangkok 10120, Thailand
Lush garden, Chao Phraya River, seafood, and tasty authentic Thai dishes – we can't think of a more blissful al fresco dining spot than Phra Nakhon. Want to impress someone or have a romantic dinner? Dine at the restaurant as the sun sets. You'll get a beautiful combination of the windy river, Bangkok's towering skyscrapers, and the magical colour of sunset as your backdrop.
In terms of food, Phra Nakhon serves a collection of traditional Thai dishes.Whether you choose the set menu or the a la carte options, you're guaranteed to leave with a happy heart and an even happier tummy. Their Kuay Teow Lod Talay Yaowarat is definitely a must-try. It contained finely wrapped seafood inside of noodles that were then richly covered in a sweet, spicy, and soya sauce that complemented the flavours of the other ingredients. Furthermore, be sure to end your meal with a sweet treat. Our favourite is the Khao Niaw Mamueng I Tim Gati, which is mango sticky rice with coconut ice cream and roasted mung bean.
From breezy gardens for tea parties to scenic rooftop restaurants for fine dining, there's an outdoor option for every occasion in Bangkok.
Looking for indoor fine-dining restaurants? Click HERE to check out our article on fine-dining restaurants in Bangkok you have to visit! 
Courtesy ofThaiger News
Stay updated with Samui Times by following us on
Facebook
.