BKFC Thailand strawweight champion Fani Peloumpi to face Britain Hart at BKFC 20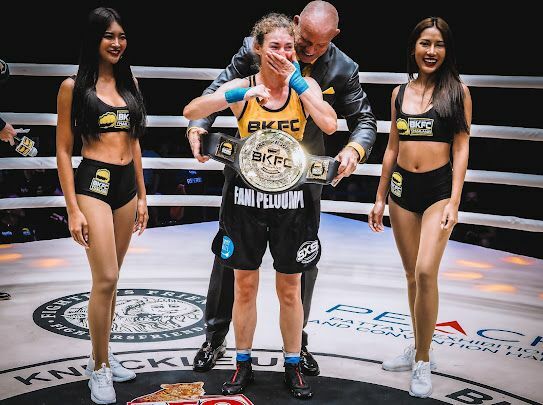 Press Release
Current BKFC Thailand strawweight champion Fani Peloumpi is set to make history for the promotion once more. After becoming the very first BKFC Thailand champion, the Greek "Queen of BKFC Thailand" will be the first fighter from the promotion to fight on an American BKFC show when she battles American fan-favourite Britain Hart for the inaugural BKFC Strawweight Championship in the main event of BKFC 29.
BKFC Thailand CEO Nick Chapman says, "People ask me all the time, 'If I fight well in Thailand will I get a chance to fight in America?' Well here is your answer."
Prior to her BKFC Thailand debut, the MTA Academy-trained 37-year-old Peloumpi garnered an impressive 67-23-1 record in Muay Thai, picking up multiple championships in the process. She also has a 1-1 record in both boxing and kickboxing. Peloumpi made her promotional and bare-knuckle boxing debut back in May at BKFC Thailand 2: Iconic Impact, facing Souris Manfredi for the strawweight title, the first championship on the line for the promotion. Although Manfredi was a sizable favourite, Peloumpi scored an upset split decision victory in an exciting bout.
Britain Hart is one of the most recognizable faces in BKFC, and holds a 5-3 record in the promotion. Hart's only losses have come to former champion Bec Rawlings at BKFC 2, which she avenged in her most recent outing at BKFC 26, and Christine Ferea at BKFC 5 and at BKFC KnuckleMania 2 for the flyweight title. Hart will now drop down to strawweight in an effort to find gold.
BKFC 29 is set to happen on Saturday, September 10, live from the Pacific Steel and Recycling Arena in Great Falls, Montana. Tickets are on sale now via Montana Expopark.
About BKFC Thailand
BKFC Thailand events are managed by Mr. Nick Chapman and Mr. Vathanai Vathanakul. BKFC Thailand features a series of bare-knuckle fighting events to be held on a monthly basis in Thailand. Our events will encompass a traditional bare-knuckle boxing style while utilizing a specifically created rule set that emphasizes the half Thai clinch with punching strikes allowed inside the clinch.
All bouts will be held in a revolutionary circular four-rope ring, designed to encourage fast-paced and exciting bouts. The patented BKFC "Squared Circle" contains scratch lines, based on the Broughton Rules which governed bare-knuckle fighting in the 19th century, and which requires fighters to "Toe the Line": starting every round face to face, and just 3 feet apart.
Only established professionals in boxing, MMA, kickboxing, Lethwei, or Muay Thai will be allowed to compete. The referees, judges, and officials will also be required to have extensive professional combat sports experience.
Follow BKFC Thailand
Website: www.bkfc.com/thailand
Youtube: BKFC Thailand
Instagram: @bkfcthailand
TikTok: @bkfcthailand
Facebook: @bkfcthailand
Watch BKFC Thailand
Link: https://referral.bareknuckle.tv/BKFCThailand
Android: https://bit.ly/3b3gHcD
Courtesy ofThaiger News
Stay updated with Samui Times by following us on
Facebook
.