Cheap sound absorption panels believed to be cause of Mountain B fire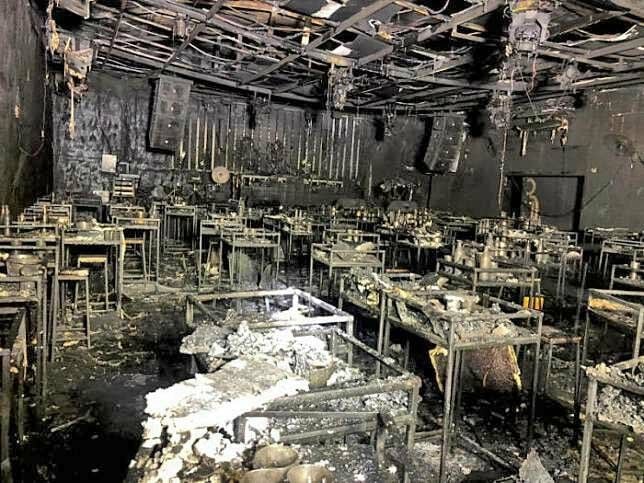 Cheap and flammable sound absorption panels are thought to have caused the tragic fire at Mountain B nightclub in Sattahip district, Chon Buri province, on Thursday night. The total death toll rose to 15 after a man injured in the fire died in hospital on Saturday. Around 40 people were injured in total.
The owners of Mountain B soundproofed the ceilings and walls of the nightclub with flammable sound-absorption sponges, causing the fire to rip through the venue in seconds. With 50 people inside the room and only one small exit route, several people couldn't make it out in time.
The tragedy could have been avoided if the owners had bought non-flammable absorption panels, which cost just 200 baht more each, according to Pinyada Jittapirak, a representative from acoustic panel distribution company Lucky Center Company Limited.
The type of sound absorption panels used at Mountain B "burn as fast as paper", said Pinyada.
Pinyada said her shop no longer stocks flammable sound absorption panels. Pinyada recommends all customers to buy sound absorption panels which are flame retardant and advises customers that the right panels will come with a label indicating they are fire resistant.
From studying the photos of the aftermath of the fire, Pinyada said the flammable panels used at Mountain B are made from a material called ovarian sponge sheet.
Non-flammable sound absorption panels are made from white mineral sheet fiber or square polyester fiber sheet.
Professor Weerachai Phuttahawong from the Department of Chemistry at Kasetsart University confirmed that Mountain B's sound panels were flammable.
Weerachai explain that the sound panels are made from a type of plastic polymer which generates a lot of smoke. Billowing smoke filling the nightclub made it harder for people to navigate their way out of the building.
Survivors reported that they saw burning sound-absorption panels melting and falling on top of people, causing their death. A regular singer at the venue described what happened…
"What I always hoped to never happen just happened today. I always feared playing at this pub because it had a sole, tiny exit at the far front. The door behind the stage was usually for the band and was locked immediately after everyone was in. Above everyone's head were also lots of foam panels used to absorb sound, which were combustible. Every Monday, I always envisioned myself playing at the Santika pub, which was burnt down and killed lots of people a long time ago. I pray that everyone will be safe and sound"
The blaze is reminiscent of the New Years Eve 2008 fire that occurred at Bangkok's once-renowned club "Santika Pub" in Ekkamai. A total of 66 people died in the fire and 103 people were injured after fireworks were shot at the ceiling inside the venue.
The court acquitted the owner of Santika Pub Wisuk Setsawat of gross negligence causing death, despite him not having signs showing the fire exits in the building and not installing enough emergency lights in according with the Building Control Act.
Mountain B was open illegally. It was built illegally, did not possess a proper license, and was open past the hours specified by law. The venue had previously been shut down several times before and the owner was most recently arrested in July. Yet, the venue managed to open last Thursday.
Mountain B's 27 year old owner was arrested and faces charges of reckless behaviour causing death and operating a nightclub without a license.
At first, all injured people were to be given 4,000 baht and 13,300 if the fire caused them to develop a disability. The families of each casualty were to be given just 29,700 baht, or double if the deceased was financially responsible for a household. However, the pub's owner has recently said that injured people will be given an extra 10,000 baht and casualties an extra 50,000 baht.
The Department of Disaster Prevention and Mitigation of Chonburi has set up a command centre at the pub to assist victims.
SOURCE: ASEAN
Courtesy ofThaiger News
Stay updated with Samui Times by following us on
Facebook
.