Chiang Mai protestors send Prayut a message, despite thousands of police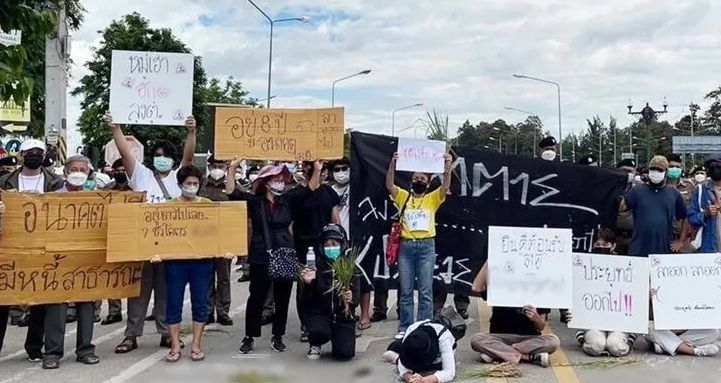 Thailand's PM Prayut Chan-o-cha received a message after visiting the northern province of Chiang Mai yesterday. A group of protestors known as Kiat Lampang 'greeted' Prayut outside the airport. The group had announced on its Facebook page…
"Come and welcome and chase out Prayut! At the international airport, Chiang Mai, today will definitely follow and chase him all day."
Prayut later spoke at a ceremony, protected by tight security with over 2,000 police officers. But 20 or so protestors managed to get through and stage a demonstration at the conventrion centre where he spoke. Their messages included "After 8 years there is now no future resign". Others wrote "Uncle Tu borrows, borrows, borrows", and "No future, public debt".
This news comes after Prayut earlier this week made a bizarre appeal to the nation's press to "go easy" and give him a fair crack of the whip. This was after a recent poll put him in fourth position as potential picks to be Thailand's next prime minister, a long way behind the daughter of former PM and political enemy, Thaksin Shinawatra.
The NIDA survey, the second about prime ministerial candidates this year, was conducted last week among 2,500 people of various ages, occupations and education levels.
25.3% of the respondents favoured the Pheu Thai leader of 'Inclusion and Innovation Adviser Committees', Paetongtarn Shinawatra. 'No one' was the second choice with 18.7%. 13.2% favoured Pita Limjaroenrat, the current leader of the opposition Move Forward Party. In fourth place, 11.7% put their hand up for the incumbent PM Prayut Chan-o-cha.
Prayut is increasingly losing popularity, and the future of Thailand's politics remains unknown.
SOURCE: Matichon
Courtesy ofThaiger News
Stay updated with Samui Times by following us on
Facebook
.