Crocodile turns up in an unusual location: the heart of Bangkok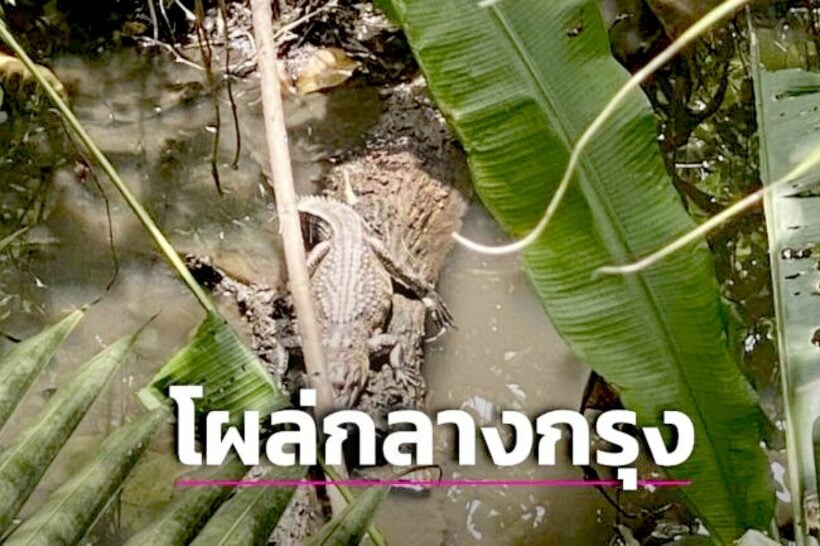 Visitors to Thailand are often amazed by the wildlife you can see – elephants, tigers, crocodiles, lizards, dolphins, whales and sharks, and so much more. There are areas – like nature reserves, marine parks, farms and sanctuaries – that you can travel to in order to meet these creatures, and downtown Bangkok is not usually one of them. But local residents were stunned to run into a crocodile yesterday afternoon in Charoen Krung soi 107 in the heart of Bangkok.
The croc was spotted sunbathing in a small pond in a wooded area owned by a middle-aged local man. Shocked neighbours living in a nearby dormitory with views into the area reported the lounging crocodile around 2.30pm yesterday, calling on the Ruam Katanyu rescue service to help remove the alarming visitor.
The metre-long crocodile had been relaxing on a piece of wood in the neighbourhood pond, which is not connected to any waterways that may have brought him there. But when the rescue team arrived, the creature was nowhere to be found. All they could do was tell residents to call them back if the croc turns up again anytime.
The owner of the property where the crocodile was seen was interviewed and denied any allegations that he was breeding or raising crocs, but did admit that he had seen this particular crocodile last month also. He didn't bother to report the sighting at the time and said that, since there were no children around or anything, he didn't feel like there was any immediate danger.
The owner also commented that the area has seen its share of snakes and other worrisome creatures, so while the crocodile was a bit of a shock, scary creatures weren't uncommon in the area. He keeps a big dog around his property to warn him in case the crocodile comes back.
SOURCE: ASEAN Now
Courtesy ofThaiger News
Stay updated with Samui Times by following us on
Facebook
.