Government reports over 90% of students 12-18 vaccinated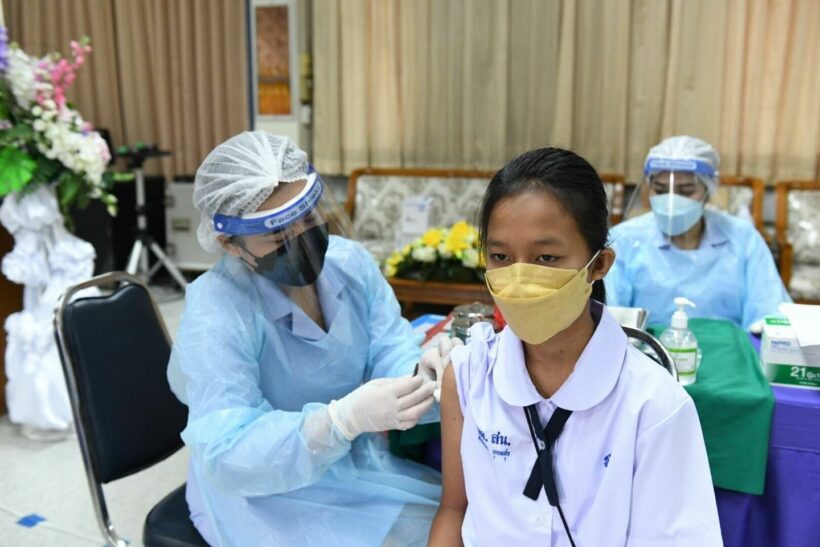 A spokesperson for the government reported that now over 90% of students in Thailand who are between the age of 12 and 18 years old have been vaccinated with at least one Pfizer dose. When looking at the numbers though, the figures are a bit… interpreted.
The spokesman reported that there's a total of 5,085,460 students in Thailand and that, of those students, 4,062,239 of them had applied with the consent of their parents for a Covid-19 vaccine. 3686467 students have received at least one of the two necessary Pfizer vaccines so far.
Simple math shows that the percentage of total students who received one dose of the vaccine is about 72.5%. The cited 90% statistic is actually that 90.75% of those who applied for the vaccine have received one dose. Additionally, the report stated that 1,674,270 students had received 2 doses of the Pfizer vaccine, making them fully vaccinated. They report that as 41.22%, though again that percent it's actually of those who signed up for the vaccine. In reality, 32.93% of all students in Thailand are vaccinated with two doses.
Regionally, the Western provinces of Thailand have the least amount of students vaccinated with just under 72,000, while the Northeastern provinces have almost 481,000 students inoculated. The Central region was the second most inoculated with about 447,000 students receiving the vaccine, while the Southern provinces were third with 331,000 students. The Eastern provinces and the Northern provinces were about equal in their number of vaccinated students, with just over 173,000 students and just under 170,000 students vaccinated respectively.
While vaccines are not mandated in schools for in-class learning in Thailand as of now, Thai doctors and experts strongly recommend them for students. For students aged 12 to 18 years old in Bangkok who have not yet been vaccinated, or are informal students, Bang Sue Grand Station is offering Pfizer vaccines from now until December 7. Walk-ins who are with their parent or legal guardians will be accepted, but Thai and foreign.
SOURCE: The Pattaya News
For more information on Covid-19 Insurance, CLICK HERE
Courtesy ofThaiger News
Stay updated with Samui Times by following us on
Facebook
.