Look out for Phuket's spider man ice cream seller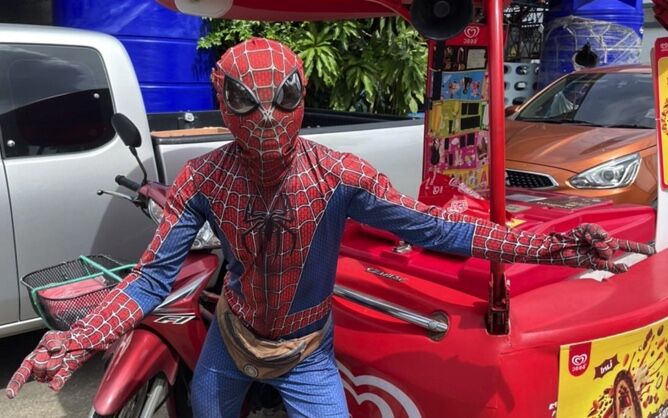 Spider man, spider man, does whatever a spider can.
An ice cream seller in Phuket's main city district is putting smiles on children's faces by dressing up as super heroes. But the man, 35 year old Witoon, has a backstory that's not so cheerful. He once made his living singing at restaurants and venues, but Covid-19 restrictions changed all that.
Left unemployed in the midst of the pandemic in 2020, Witoon needed another way to earn the bucks. Rather than despair, he switched up his career a bit. He chose to sell ice cream, as he says, "with a twist". Witoon now steps into a super hero costume before heading out for work every day. He told The Phuket Express…
"This is another way of marketing as many children who love ice-cream also love Super Heroes… I have to do this as there are many people selling ice-cream too. I have to be different."
It's not always spider man. Sometimes, Witoon dresses as the Hulk, or the Flash. Even though he wears his costumes in the scortching Phuket sun, Witoon has now gotten used to the heat, as this is his everyday routine.
Witoon has been selling ice cream in Rassada sub-district, and he also sometimes stops his ice cream motorbike in front of schools in the Wichit neighbourhood.
Witoon is not the only Thai seller to dress up as super heroes since the pandemic broke out. Some sellers have done this in the past, hoping to catch more customers' eyes. Food vendors are one of the industries in Thailand hit hardest by the pandemic, since would-be customers have been scared to buy street food because of the spread of germs. Super hero costumes are one creative way that sellers like Witoon have found to keep up their business.
SOURCE: The Phuket Express
Courtesy ofThaiger News
Stay updated with Samui Times by following us on
Facebook
.