Modernform opens up a space of inspiration at its new home on Soi Sukhumvit 49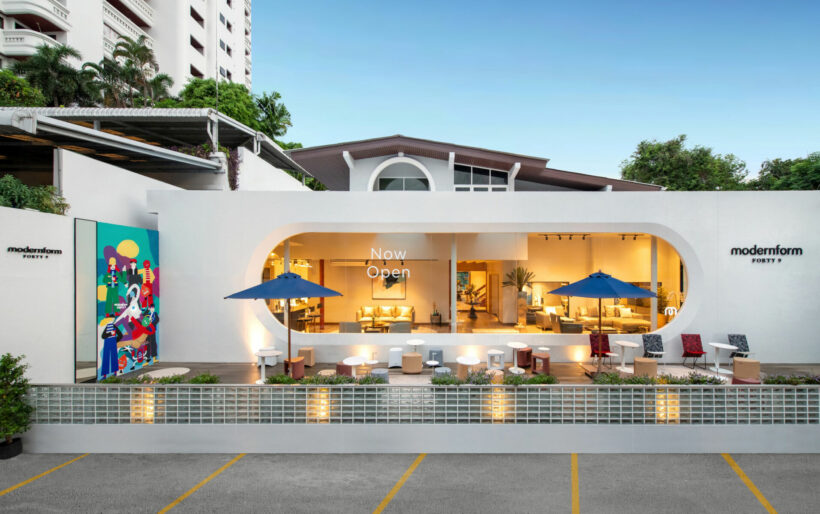 Press Release 
Modernform Group Public Company Limited, Thailand's leading office and home furniture brand, invites everyone to find inspiration to fulfil their lifestyle needs at its new showroom, which is unlike anything you have seen. To create its new showroom, the brand has turned a heritage house into a lifestyle community right in the heart of Bangkok. Based on a design concept called "House of Fulfilled Living," "Modernform Forty 9" serves as a space for individuals who love design, craft and home decor that impress with their scrupulous attention to detail. The showroom offers a range of services that meet new-generation people's particular lifestyle needs. Modernform's new home on Sukhumvit 49 is ready to welcome and inspire guests for the first time on Tuesday, August 9th, 2022.
Kitipat Nerngchamnong, CEO and President of Modernform Group PLC, the leader of Thailand's furniture market with over four decades of experience, is keen on explaining the concept behind the company's newly created platform as a lifestyle community: "Despite the spike in online shopping that we've seen, Modernform has the intention to provide a source of inspiration to our visitors when they spend time at our store and experience our products. We aim to build an engagement with our customers whilst offering them an experience. This is why we first came up with a concept to create a lifestyle space which is not merely a 'showroom' to give our customers a space that inspires them and complements their way of living. We're aiming to make the lifestyle of the new generation more accessible."
Kitipat adds that the lifestyle space concept gave birth to Modernform Forty 9. It's located in the middle of Soi Sukhumvit 49, an area that's accessed via multiple routes, frequented by multi-national residents and also part of Bangkok's central business district, which is hands-down one of Bangkok's liveliest neighbourhoods. Modernform Forty 9 provides a space that's designed to meet the lifestyle needs of urbanites easily. It offers a cosy home vibe and definitely stands out from the rest of the company's showrooms. Bursting with inspiration for living in style, the new branch not only offers attention-grabbing and limited-edition products, but it also comes with a design studio where customers can consult with designers to jointly create custom residential and other designs. 
To create a House of Fulfilled Living vibe, Modernform Forty 9 consists of not only its own store but its friends' outlets as well in a bid to add warmth and colour to the lifestyle community, namely Kaizen Coffee (Lifestyle Specialty Coffee), K+ (a fine-dining restaurant from Tokyo), Karmakamet, Cotto, Mahajak, Minor Kitchenware, Thorr, Owls Wallpapers, Tumi, Amber Home & Living Store, D'Atelier Décor, Kustom Karpets, Wana Gallery, Lavenz and Dotlife.
Another highlight of this new home is the wonderful wall paintings by Jackkrit "Nuer" Anantakul, a famous Thai graphic designer and illustrator who has produced amazing works for multiple global brands. Under the theme "Life at Forty 9, the paintings have brought a fun, colourful, upbeat vibe to this home with the designer's eye-catching palette and unique character designs.
In terms of its design concept, Modernform Forty 9, a new space for those who love design, is aimed at offering a "modern-form experience" in a "5-Sense Collaboration" format. The place gives you a warm cosy feeling of being at home that will leave you inspired after every visit. The plush furniture and other decorations have been arranged to bring this house alive at all times.
Starting at the Living Zone, located in the foyer facing the main entrance, you will be greeted with a Luxury Kitchen Pantry. Its design and function convey an exquisite sense of opulence.
The Home Office Furniture room in the Ergonomic Selection zone houses an array of premium office furniture for the customer to choose from and experience.
The Condo Living zone features the interior design of a condominium's show unit with a sofa, a kitchen and a dining table, and a personal workspace that can be turned into a bedroom. 
The Design Studio in the loft accommodates a co-working area for visitors. Also, it serves as a one-stop design consultation area that offers a wide selection of materials for customers to choose from.
The second-floor penthouse showcases types of luxury living with a myriad of loose furniture items and products from Motif. Special editions of walk-in closets are exclusively on display at this branch only.
All furniture items and accessories on show and for sale as curated by Modernform Forty 9 are designed to match the lifestyle needs of new-generation people. The products display attention to detail in their manufacturing process, and they themselves represent models of perfection in terms of quality, design and function. They come in a range of forms and materials and are available in different sizes that are compatible with the human scale of urban life. Customers can select materials to suit their lifestyle preferences.
The showroom houses a design studio which offers interior design services and workplace planning solutions. Staff are on hand to create residential and workplace designs for customers, covering all aspects of design, from creating an initial layout, furniture design and interior decoration to manufacturing and installation done by the company's team of experts.
Come and look for inspiration for your home furniture and decor at Modernform Forty 9, a space for design lovers on Soi Sukhumvit 49. It's open every day from 9:00 to 18:00 hrs. Stay tuned for our buzzing activities on Instagram at modernform.forty9, or follow our news and check out our special offers at www.modernform.co.th, Facebook: Modernform Furniture, and Line@: Modernform Furniture. For more information and enquiries, please call 02-094-9999.
Courtesy ofThaiger News
Stay updated with Samui Times by following us on
Facebook
.