New Bangkok tunnel closed on opening day due to flood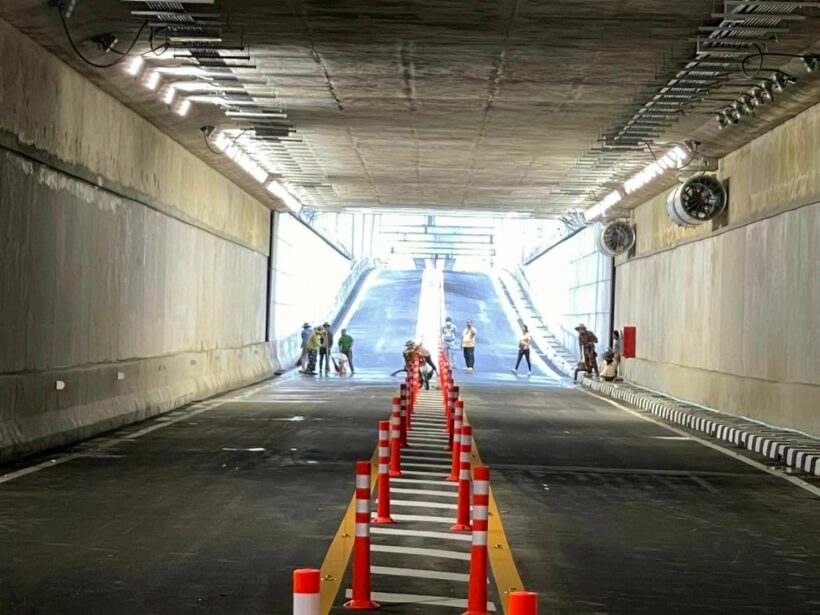 You couldn't make this up. Finally, after 13 years of construction, the new Fai Chai Tunnel in Bangkok officially opened yesterday only to close due to a flood. 
Bangkok Governor Chadchart Sittipunt last month visited the unfinished Fai Chai Tunnel to talk with the Director of the Public Work Department, Taiwut Khankaew, about the project's delay. Chadchart made a few barbed comments to Taiwut about the project's perpetual holdup which first began in 2009.
Chadchart said…
"Director, you should be careful with every detail. No more chances to close the tunnel to fix the construction again. The road seems a little bit bumpy but it will be OK as it should be paved with asphalt again, right?"
Taiwut explained that the MRT Blue Line, and pavement improvement, were reasons for the long delay but promised Chadchart that the tunnel would be finished and open by August 1. And Taiwut made good on that promise as the Fai Chai Tunnel officially opened yesterday at 5am. However, the tunnel was only open for about eight hours before it was closed again because of flooding. 
The Bangkok Public Relations Facebook page reported…
"There was water waiting to drain at the entrance and the end of the tunnel, and some objects were obstructing the drainage. The officials would solve the problem as soon as possible. The tunnel is expected to reopen at about 4pm."
The page updated again that the tunnel was reopened at 4.30pm.
Bangkok Public Relations stated the Fai Chai Tunnel construction was completed but added there were a few snags to fix like the water drainage system that the Public Work Department was still working on.
The tunnel opens every day from 5am to 10pm but will close between 10pm to 5am as the Public Work Department continues working on minor details. 
The tunnel aims to reduce traffic near Fai Chai Junction and provide an alternative route for drivers who want to cross the intersection.
The 13-year construction caused a multitude of problems for drivers and nearby residents. The huge traffic jams and absent pavements forced a number of local shops along the road to go out of business because consumers could not gain safe access to them. 
SOURCE: 77 Kaoded | Bangkok Public Relations
Courtesy ofThaiger News
Stay updated with Samui Times by following us on
Facebook
.