Pattaya cops arrest spurned lover armed with gun after car chase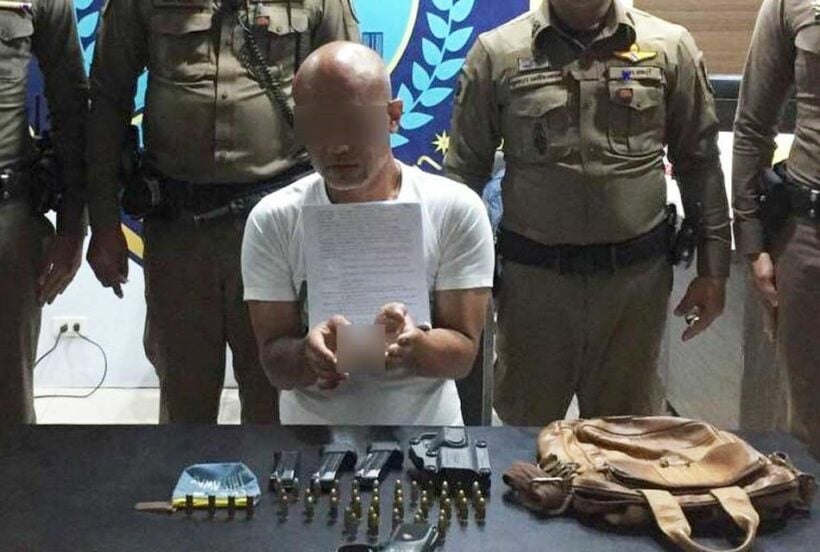 A high-speed car chase between police and a spurned lover armed with a gun ended when officers managed to arrest the man in a state of emotional duress in Pattaya.
Police were called to the scene of a domestic dispute between Jane Ditphakdi and an unnamed woman, who rejected his advances, and another man trying to mediate the argument yesterday at about 6.05am.
The 42 year old declared his love for the woman but she refused his advances saying she already has a boyfriend. The argument became more heated as police arrived at the scene.
They tried to calm the agitated man but saw he was hiding a pistol on his waist as they approached him. Jane resisted, and threw two punches at the arresting police officer's body, before pushing his chest and kicking his foot. As the officer lost his balance Jane dashed to his BMW and sped away with the police in hot pursuit on a motorcycle.
Police called for backup as they chased the suspect in his BMW car on Sukhumvit Road, Pattaya, toward ​​Bang Lamung police station and Nong Prue Waterworks Intersection, where Jane's car suddenly braked, lost control, and crashed into an electric pole.
Jane tried to escape from the damaged vehicle and as officers closed in and another physical fight ensued with the suspect swapping punches with police and a member of the public who helped stop his escape.
It took several officers to apprehend the suspect
Officers searched Jane's BMW and discovered a small arsenal of weapons large enough to start a war. Police found a Ruger handgun with 10 rounds of 9mm ammunition hidden under the passenger seat, a brown bag with two magazines, 12 and 20 rounds of 9mm ammunition, and a blue pouch with four rounds of 38mm ammunition under the seat as well.
The accused confessed the items were all his own.
Jane was charged with possession of firearms and ammunition without permission, and carrying firearms into public places without reasonable cause. and fight against the officers by using mayhem. If found guilty Jane faces imprisonment for a period of between one and ten years, and/or fines between 2,000 to 20,000 Baht.
Pictures courtesy of Daily News & Pattaya News.
SOURCE: Daily News Pattaya News
Courtesy ofThaiger News
Stay updated with Samui Times by following us on
Facebook
.