Police find fake Covid-19 tests worth millions in central Thailand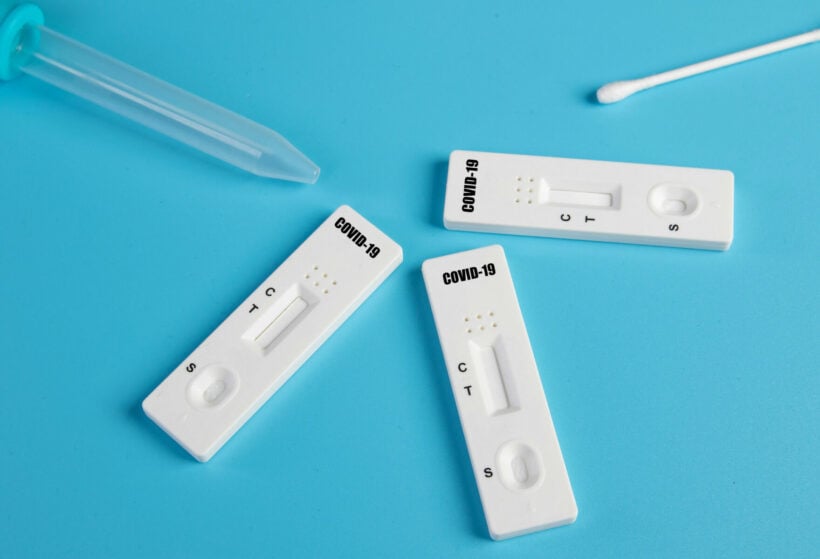 After raids this week, police have found tens of thousands of falsely labelled Covid-19 tests, along with medical supplies, in central Thailand worth about 2 million baht. Police posed as customers to crack down on a building in the province of Nakhon Pathom, and a house in the province of Nonthaburi, on July 11.
In the Nakhon Pathom building, police found tens of thousands of ATK test kits falsely labelled with brand names such as Testsealabs Gica, Testsealabs Nex and Zybio. The police also found face masks and other products. The Central Investigation Bureau commissioner said a woman admitted to owning the building, and the products. The woman so far is only identified as Anusara. Her building was located in the province's Bang Len district.
In the Nonthaburi house, police also found falsely labelled Covid-19 tests. The labels were for brands including Testsealab Gia, Testsealabs Nex, Greenspring, Singclean, Seinofy, Hip, Deepblue, Humansis, Bioteke, and Ustar. The police also found medical gloves, oximeters, and Chinese herbal products. The owner of the house and the products is a woman so far only identified as Patyaphorn. The house was located in the main city district.
Police say that Anusara and Patyaphorn had been selling the Covid-19 tests on Facebook since April, for cheaper prices than what the brands usually sold for. They sold the ATK tests for 40-45 baht each. Investigators believe that at least four people are involved. The chief of the Consumer Protection Police Division, Neti Wongkulab, says the next step is to catch a Chinese national said to have supplied the fake products.
This isn't the first time Thai police have busted suspects selling fake Covid-19 tests. Back in June, police arrested six suspects for a 20 million baht Covid-19 test scam. The suspects allegedly offered to sell ATK tests on 4 Facebook pages, charging about 10,000 people 900 baht per box when there was a shortage of test kits, according to Police Major General Anant Nanasombat. After the test kits didn't arrive, the buyers couldn't contact the sellers.
SOURCE: Bangkok Post
Courtesy ofThaiger News
Stay updated with Samui Times by following us on
Facebook
.