Stop plucking the endangered 'penis plant', urges Cambodian government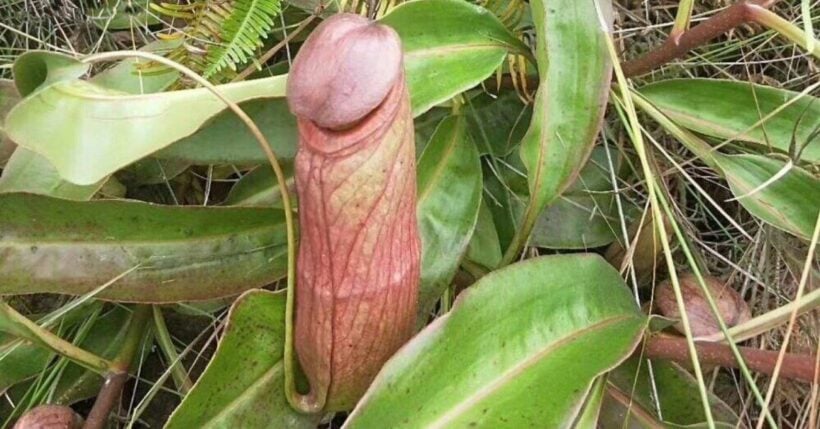 A phallic-looking plant is at risk of extinction in Cambodia because people keep plucking it out of the ground to take selfies with it. After a video of some women picking the "penis plant" went viral on social media, the Cambodian government has issued a statement asking citizens to leave the endangered penis plant in the ground where it belongs.
It's true, the Nepenthes holdenii pitcher plant looks astonishingly like an erect penis. The protected plant, growing only in remote mountainous regions of western Cambodia, has become endangered because locals and tourists can't keep their hands off them.
The penis plant only grows in very remote areas in latitudes above 600 metres, so locating and snapping a picture with the pitcher plant has become a sort of challenge for some penis plant enthusiasts in Cambodia. The plant was historically thought to only exist in the Cardamom Mountains, but in 2011 a new population was discovered further east.
The carnivorous penis plant has been described as looking similar to an eggplant when its trap is open to catch flies. When an insect falls into the trap, the Nepenthes holdenii closes its trap and transforms into a penis.
After a video of a group of women plucking the plant went viral on social media, Cambodia's Ministry of Environment and Natural Resources issued a statement urging people to stop picking the penis plant to protect it from slipping out of existence…
"What they did was wrong. Do not do it again in the future. Thank you to everyone who loves and cherishes our natural resources. But please do not pluck the Nepenthis holdenii plant, otherwise it will die."
SOURCE: New York Post
Courtesy ofThaiger News
Stay updated with Samui Times by following us on
Facebook
.