StyleCation: latest TAT campaign aims at young domestic tourists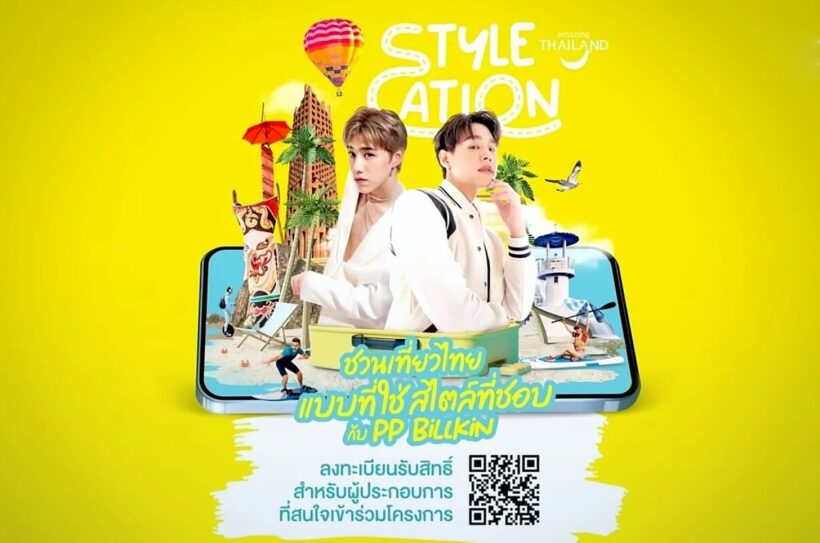 Forget the staycation and the workcation, "StyleCation" is the hot new awkward portmanteau the Tourism Authority of Thailand is pushing to attract visitors. The TAT has recruited top actors/singers Krit "PP" Amnuaydechkorn and Putthipong "Billkin" Assaratanakul to promote a new campaign aimed at getting Thai people traveling around the country.
"Amazing Thailand StyleCation with PP and Billkin" is the newest in a long line of promotional tourism campaigns that the TAT has launched in an endless cavalcade of attempts at reaching various potentially lucrative markets. TAT governor Yuttasak Supasorn hopes that using Thai celebrities will encourage domestic travellers to participate in what he called meaningful travel all around the country.
He spoke at a press event yesterday when he outlined that over 30 businesses in the sector have already joined the campaign that offers up to 60% discounts for tourists. Airlines, tour companies, and accommodations have all signed up to participate. He went on to explain the meaning of the newly coined Parham along with how they would market the campaign online.
"PP and Billkin will lead the campaign to promote domestic trips via digital platforms to inspire people to travel in their own style, or 'StyleCation'."
Using hip younger celebrities is hoped to connect with a new market of younger travellers with a different style of holidays and travelling. The TAT hopes this campaign will connect with the next generation of travellers and encourage them to create their own vacation in their own style.
A vlog is planned to follow up the launch of the new StyleCation campaign, reaching out to younger travellers in the popular format, releasing video blogs showing areas more in-depth. The vlog intends to show activities and adventures beyond typical sightseeing in popular tourist provinces as well as highlight hidden gems in provinces with less commercial tourism.
A website with details and deals can be found at stylecationthailand.com and more info can be found by contacting "Amazing Thailand" on the LINE app or YouTube, @AmazingThailand on Facebook, or calling 1672.
SOURCE: The Nation
For more information on Domestic Travel Insurance, CLICK HERE
Courtesy ofThaiger News
Stay updated with Samui Times by following us on
Facebook
.