Thai PM faces fourth censure motion next month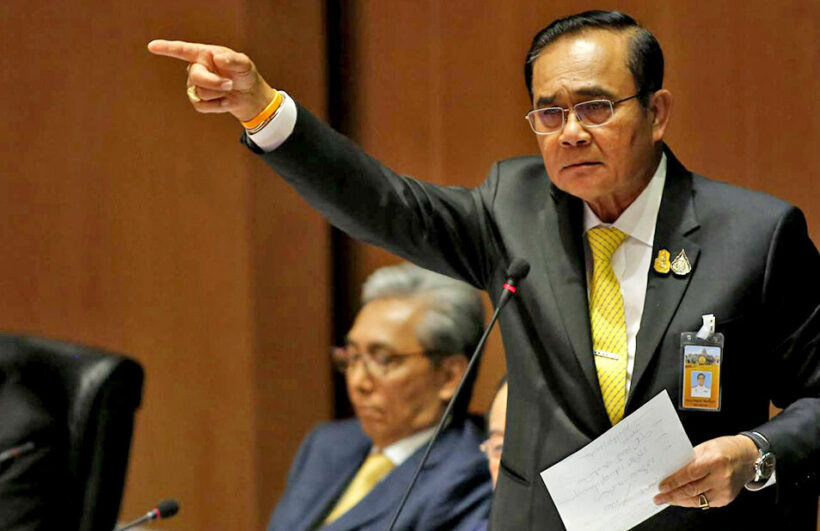 The next political challenge for Thai PM Prayut Chan-o-cha is next month when a censure motion is put to the lower house by opposition MPs. The debate is scheduled for July 18 – 22 and there is no certainty how the votes will eventually fall at this time. Renegade MPs, new political factions, the PMs falling popularity and a looming general election will all figure in the final result for PM Prayut and the ruling Palang Pracharat Party.
Moving Forward Party MPs will be leading the charge, attacking the performance of the prime minister and 10 of his other leading ministers.
This is the fourth such censure debate agains the PM and government since the 2019 general election. They've so survived all votes on the lower house floor, along purely party lines.
The ruling Palang Pracharat coalition has a tenuous majority and relies on the 17 coalition partners to push through any legislation. The largest rumps of support come from the Democrats and Bhumjaithai, the party of deputy PM and public health minister Anutin Charnvirakul.
Anutin's party support is connected to a successful roll out of the new Cannabis decriminalisation and legalisation laws. A parliamentary debate on specific restrictions and laws is yet to be debated in the lower house. There's also been a lot of push back from Palang Pracharat, and opposition, MPs over the new legalisation laws. In response, Anutin has voiced his, and other Bhumjaithai MP's, opposition to the proposed civil union and same-sex marriage reforms proposed by the government and opposition parties.
The most high profile dissenters are the 20 MPs that were evicted after an unsccessful internal coup during the last censure debate, led by Phayao MP, and former deputy agricultural minister, Thammanat Prompau (who also happens to be a former inmate of the Australian prison system for 4 year after being convicted of trafficking of heroin in 1994, when he was known as Manat Bophlom).
Both Thammanat and the other renegade MPs have since forged alliances with other conservative parties, or started their own. But, after being banished from Palang Pracaharat, and already indicating their lack of the support for the current PM, their votes cannot be counted upon when the censure votes are taken.
During Tuesday's cabinet meeting, PM Prayut told his ministers that he is "ready to confront the opposition and to respond to their questions". He has already rallied his supporters and "evidence" he intends to use during the debate sessions next month.
Goading the PM, opposition MPs are already calling the forthcoming censure motions and debate as "The Last Supper of the prime minister".
Courtesy ofThaiger News
Stay updated with Samui Times by following us on
Facebook
.