Thailand agrees to build economic community with China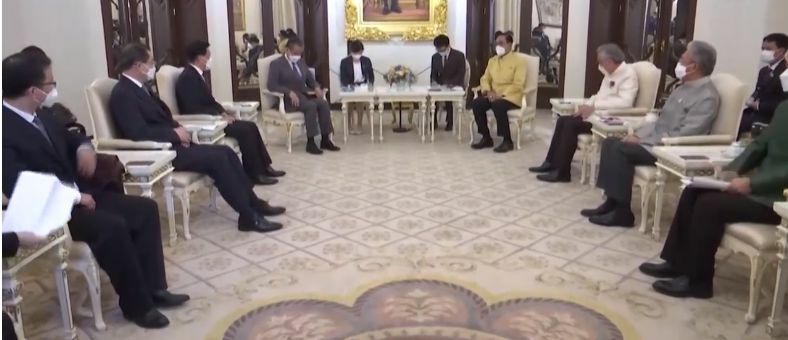 The doom and gloom of the nation's economy were put to one side momentarily as Thailand and China agreed to build a community with a shared future, providing a much-needed boost to the kingdom's prosperity.
Thai PM Prayut Chan-o-cha and Chinese Foreign Minister Wang Yi met at Government House yesterday to discuss greater trade, economic cooperation, investment, and connectivity in a year that marks the 10th anniversary of the establishment of the comprehensive strategic cooperative partnership between the 2 countries.
Government Spokesperson Thanakorn Wangboonkongchana reported that PM Prayut wants China to speed up the building of facilities that will help the export of Thai products into China.
Thanakorn said China is the top importer of Thai agricultural produce, including Thai fruit, with the value of exports from January to April this year increasing by about 20% over the same period last year.
"The prime minister has invited Chinese companies to invest in industries, such as electric vehicles and agriculture, in the Eastern Economic Corridor, which is a logistics hub for the region.
"As China places importance on the connection of the Sino-Lao PDR high-speed train system with Thailand's rail network, the prime minister pledged full support for the Sino-Thai high-speed train project, with a promise that the project will be completed within the agreed timeline."
During the meeting, he said that the Chinese side proposed the formation of a tripartite committee, comprising Thailand, China, and the Lao PDR, to speed up the project.
The Chinese Foreign Minister revealed the two sides reached a consensus on four aspects.
Firstly, both sides agreed to build a community with a shared future, and make it the goal and vision for the development of bilateral ties. This will further enrich their relationship as close as one family in keeping with the times, and usher in a brighter future of more stable, prosperous, and sustainable bilateral relations.
Secondly, both sides agreed to work towards the early opening of the China-Laos-Thailand railway, and foster the development of logistics, economy and trade, and industries. They will launch more cold-chain freight train services, tourism, and durian express, and facilitate all-around cooperation in regions along the route, delivering more tangible benefits to the people of the three countries.
Thirdly, both sides agreed to jointly safeguard cyber security. The two sides have signed a memorandum of understanding on cyber security cooperation and vowed to crack down on all forms of telecom fraud.
Fourthly, both sides agreed to jointly push for positive results at the Asia-Pacific Economic Cooperation Economic Leaders' Meeting to be held in Thailand later this year.
Wang Yi also informed the Thai PM that Chinese President Xi Jinping will attend the APEC Summit in Thailand at the end of this year if it is possible.
SOURCE: People's DailyThai PBS
Courtesy ofThaiger News
Stay updated with Samui Times by following us on
Facebook
.