Thailand News Update | Tweaks for the revised Test & Go announced today!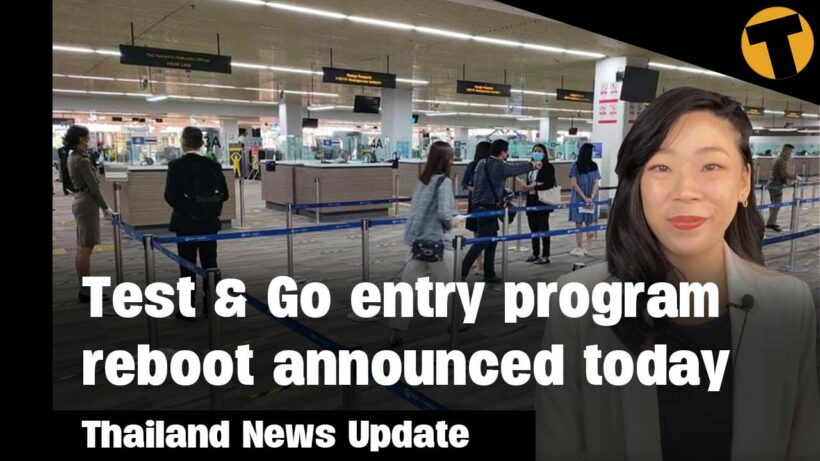 Tweaks for the revised Test & Go will be debated by the CCSA and hopefully announced today.
A few leaks indicate that the Test & Go program will, indeed, be re-introduced but there will be tightening of aspects of the program. If the rumours are true, arrivals will undergo two PCR tests during their initial seven days, the first when travellers arrive and the second on the fifth or sixth day.
The Public Health Ministry also suggested yesterday that overseas visitors will have to take out comprehensive health insurance that covers all Covid-19 contingencies. The Ministry's permanent secretary announced yesterday that visitors must ensure they are fully covered for all types of Covid-19 treatments.
The hot tip for a reboot of the Test & Go program, which only requires a single night stay in an SHA+ hotel whilst waiting for your arrival test results, is for the start of February. The Thaiger will bring you all the details and latest decisions from the CCSA meeting as they come to hand with full coverage on Thailand News Today with Jett.
————
Phuket officials are promising a big crackdown on foreigners on the island flouting the country's face mask rules.
After several warnings, police will now be taking legal action against foreigners who don't wear their face masks in public. Phuket's immigration chief called on authorities to strictly enforce the regulations set out by the local Communicable Disease Committee that required that masks be worn at all times in public spaces.
Phuket has repeatedly attempted to remind tourists and foreigners on the island of the face mask mandate but a lot of their efforts have fallen on deaf ears as many foreigners defiantly ignore the rules, refusing to wear their masks.
Enforcement teams will now focus on key tourist locations that get busy and run high risks of transmission, especially areas in Patong and main party drag along Bangla Road. And, according to the immigration boss, when they catch people maskless in public, punishment will be stepped up.
Thailand's Communicable Diseases Act allows a penalty of up to 20,000 baht and one year in jail, while the Emergency Decree doubles the potential fine and time in jail… up to now most rule breakers have been given a warning and a slap on the wrist.
————
A lot of confusion still remains after government officials mop up the mess after a media conference hosted by the Public Health Minister last week. Although the minister's intention was to clarify the latest moves to decriminalise cannabis in Thailand, many remain even more confused about the exact legal situation regarding the Thai public planting marijuana in their homes.
Now the deputy PM Wissanu Krea-Ngam has stepped up to say that he had spoken to the health minister about discussions with the Narcotics Control Board to modify rules regarding the legal stance of cannabis and use of marijuana.
The deputy PM was directly asked if Thais should go ahead and plant marijuana in their backyard.
Wissanu replied that, for now, they should hold off on planting their own cannabis crop.
The Narcotics control board say they will try and clarify the exact situation with the changes to the laws in coming days.
—————
There's been a lot of interest about the new 10 year visas for so called wealthy foreigners and digital nomads.
The government keeps beating the same old drum that that a few big spending tourists should outweigh scores of undesirable budget-conscious tourists that flocked to Thailand before the Covid-19 pandemic.
The Ministry of Labour and the Ministry of the Interior are already working on drafting the regulations for a long-term visa for highly skilled digital nomads and rich expats to stay in Thailand long-term. They say that luring these high-quality tourists will drive economic and investment stimulus measures.
For now we'll just have to wait for the details about these new visas. Inevitably there will be comparisons with the current range of Elite visas, and, for now, it appears the options may be a lot cheaper.
The four categories are for digital nomads, highly skilled professionals, wealthy global citizens (not really clearly defined at this stage), and wealthy pensioners.
————
So what's the population of Thailand. As of the end of last month, there's actually an official number…. 66 million,171 thousand, 439.
That figure is a bit under 1% of the world's population. Of that population, 973 thousand ,656 are not Thai nationals,
and the rest, some 65 million,197 thousand,783, are native to Thailand.
Bangkok, by far the most populous province in Thailand, recorded 5 million, 527 thousand ,994 people officially residing in the mega-city.
That number is well under the usual estimates for Thailand's capital of between 10 and 12 million, underscoring the vast floating population that moves in and out of the metropolis on a daily basis.
The top 5 most populated provinces reveal that the Northeast and North of Thailand is far more populated than the South and West of the country.
The population count of some 66.2 million people is about 4.5 percent lower than the 2018 population estimate of 69 and a half million. But, with Thailand sharing leaky land borders with Malaysia, Myanmar, Laos and Cambodia it will remain impossible to count Thailand's real population.
—————
The Commerce Ministry is putting chickens and chicken meat on the state price control list and rolling out more stringent measures for chicken producers and slaughterhouses, requiring them to declare their sales costs and stocks as part of efforts to deal with rising food prices.
The Central Committee on Prices of Goods and Services has approved management measures for chicken raisers with more than 100,000 birds and chicken slaughterhouses with a capacity of more than 4,000 chickens per day to report the quantity, stocks and their sales costs every month.
Yesterday, the Minister thanked chicken farmers and producers who recently agreed to cooperate with the ministry's request to freeze chicken prices at this time.
Meanwhile, the Internal Trade Department is warning other industries to avoid jumping on the inflation bandwagon and simply raising prices to take advantage of the situation.
There are currently 51 items on the state price control list, 46 of which are considered staple products.
—————
Regionally, a few tricky weeks ahead for China as it battles to remain the last major country in the world to pursue a zero-Covid-19 policy. The Chinese New Year holidays are only two weeks away when many usually travel home to see their families and then there's the February 4 opening of the Winter Olympics.
Some parts of the country are now gripped by a new wave of Covid-19 cases, triggered by the more deadly Delta strain of the coronavirus as well as the less severe but highly transmissible Omicron variant.
Subscribe or Join our YouTube channel today and become a Thaiger Legend or a Thaiger Cub for behind the scenes footage and other member-only perks.
Courtesy ofThaiger News
Stay updated with Samui Times by following us on
Facebook
.