Tropical storm capsizes ship, 27 missing near Hong Kong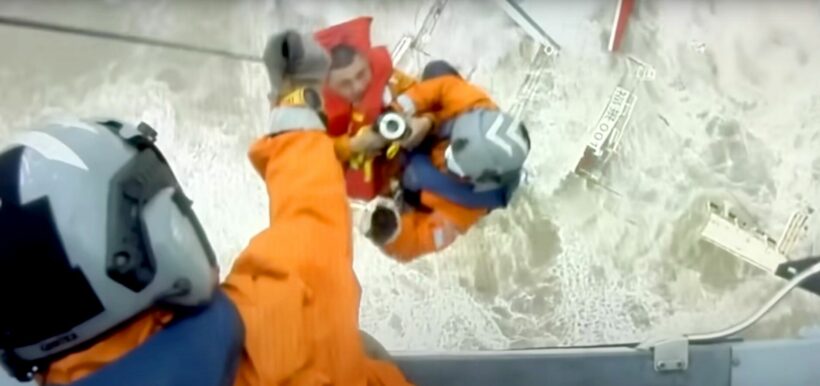 Tropical storm Chaba raged through the waters off Hong Kong, capsizing an engineering vessel with a crew of 30 people, most of which are now missing at sea. The powerful storm cracked the ship in half yesterday as the vessel sailed about 160 nautical miles southwest of Hong Kong in the South China Sea.
The Hong Kong Government Flying Service reported that the crew abandoned ship as it suffered substantial damage in the violent storm. 3 people have been rescued as of the most recent reports, and told authorities that the strong waves likely carried their other crew members away before rescuers could arrive. The survivors are now being treated at a local hospital.
Rescue efforts have struggled due to the continuing severe weather conditions, but Hong Kong authorities released stunning video footage of a helicopter airlifting a survivor while hovering above the sinking ship as it was mostly underwater and being pelted with wave after wave.
With over two dozen people still missing at sea, Rescue efforts will continue day and night, with an increasing search area. Initial rescue operations included a batch of fixed-wing aircraft as well as 4 rescue helicopters from Hong Kong, aided by a rescue boat sent by authorities in mainland China.
Hong Kong itself was lucky to avoid the worst of tropical storm Chaba, though it was drenched with strong winds and rains that closed businesses and hindered public transportation. But in the waters offshore, 10-meter-high waves and 144-kilometres-per-hour winds were recorded around the area of the capsized engineering vessel.
Tropical storm Chaba's arrival coincided with the 25th anniversary of Britain's handoff of Hong Kong to China, and Chinese President Xi Jinping had just arrived when weather authorities issued a typhoon warning on Thursday. Yesterday afternoon the storm's status was lowered to signal number 3, reducing its veracity as it makes landfall in China in the Guangdong Province, near the city of Zhanjiang.
SOURCE: Bangkok Post
Courtesy ofThaiger News
Stay updated with Samui Times by following us on
Facebook
.