'Yellow shirt' leaders facing possible prison sentence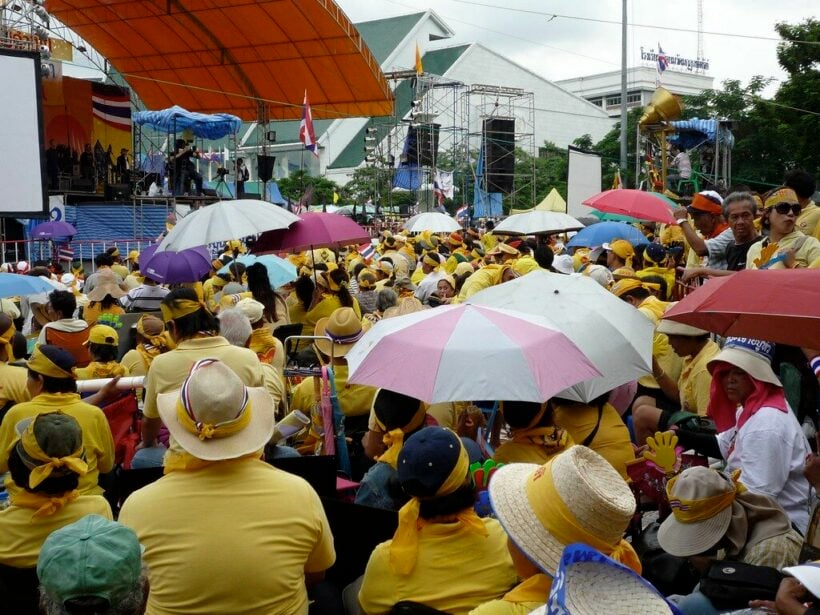 The Thai Appeals Court has upheld a previous court decision over the involvement of 5 key Thai politicians and activists in violent 2008 demonstrations. A Thai TV news presenter and 3 former leaders of the disbanded People's Alliance for Democracy (PAD), widely known as the "Yellow Shirts", face a year in jail without suspension over their involvement in the 2008 violence.
For their key involvement in the protests, the Appeals Court found 5 offenders guilty of criminal association and causing unrest, among other offences. However, one of the former leaders, Somkiat Pongpaiboon, died last year during the trial.
Phuwadol Songprasert, Yuttiyong Limlertvatee, and Chitiphat Limthongkul, younger brother of a former PAD member, and Sondhi Limthongkul, are the other 3 former PAD leaders facing jail terms. The 4 suspects were given bail of 200,000 baht each by the court, according to Thai PBS. However, the Bangkok Post is reporting that they asked for bail, which is currently being reviewed, and requested that the case be sent to the Supreme Court.
The yellow shirts invaded the National Broadcasting Service of Thailand, a state-run television network, on August 25 and 26, 2008 during their demonstration against then-PM Samak Sundaravej's government which was supported by former Thai PM Thaksin Shinawatra.
Protesters were armed with numerous weapons including knives, guns and metal rods. They demanded the news channel to stop broadcasting. Aside from invading the NBT headquarters, a huge demonstration and sit-in also took place at Bangkok's Suvarnabhumi and Don Mueang airports.
After the Constitutional Court found Samak had violated the Constitution by hosting TV cooking shows while holding public service, he had to resign. He died a little more than a year later.
The Supreme Court ordered 6 PAD members to 8 months in jail in 2019 for the 'takeover' of Government House in 2008, including former deputy PM and Bangkok governor Chamlong Srimuang. Sondhi, Pibhop Dhongchai, Somsak Kosaisook, Suriyasai Katasila and the late Somkiat were all released after serving their sentences.
SOURCE: Thai PBS World | Bangkok Post
Courtesy ofThaiger News
Stay updated with Samui Times by following us on
Facebook
.